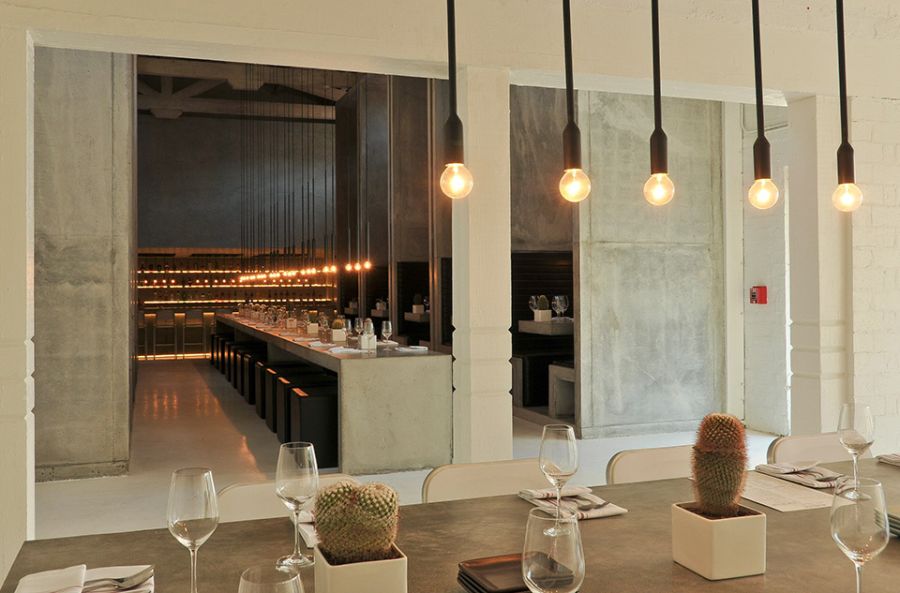 By Clarissa Allison | May 6th, 2016
Lighting is an aspect of ambiance that most people aren't consciously aware of. Without realizing it, lighting can impact our mood, make tasks easier, increase safety, and make an incredible impact on how your home or business is perceived.  Imagine booking a reservation at restaurant. You will notice the obvious:  the interior is polished and beautiful,  the waitstaff and service is excellent, and the food is great. But the harsh glare of the lighting makes it impossible to enjoy your meal properly. Perhaps the lighting is so dim in that you are unable read the menu or locate the facilities. The food under such lighting can also appear unappetizing. An otherwise lovely interior cannot make up for these types of conditions. But, with the right lighting, you'll be certain to give your customers an experience that will keep them coming back! Please read on for some tips to consider when lighting your restaurant as well as our suggestions for creative lighting design options that also functional and reliable.
Remember, with restaurant lighting, the customer comes first. Your design should be applied with the customer in mind primarily, then you should look for fixtures that will fit the architecture of the restaurant.
If your restaurant is open during daylight hours in addition to night time, be sure to make the most of any natural light that spills into your space.  The electric lights you are adding such as pendant lighting over a bar or dining area, should be unobtrusive while still allowing for important tasks to be completed by the staff.  This combination is crucial in achieving a balanced lighting design that can easily take over during night time.
What kind of crowd are you hoping to attract to your restaurant and at what hours? If your aesthetic is one of fun, irreverence and you anticipate a large turnout at night, you can get away with adding colorful lighting. The color of lights is so important as an influence over human emotions.  Colors can be used to accentuate certain details or moments on demand, like during a special event or live music. By using LED rope or tape lighting, you'll also be able to adjust colorful lighting to the function of the space and the tone of the surrounding environment.
Consider The Space and Usage 
Varying levels of light is required in any restaurant to set the right tone.  Below are even more tips on the type of lighting to consider at different times of the day and according to your restaurant's desired image.
Daytime:  In a cafe or other business that is open morning, utilize as much natural light as you can for an inviting mood and to allow customers to read while enjoying their morning coffee and breakfast.
Lunch: Did you know that a moderate level of lighting helps create a faster turnover for customers? This is especially important during the lunch hour rush.
Dinner: Low intensity lighting is best for the dinner hour to create a subdued and intimate atmosphere. This type of lighting signifies high quality and exclusivity as well.
Fast Food Restaurants - Bright overhead lighting, such as fluorescent fixtures attract customers, highlight the clean surroundings and to reflect a place bustling with activity and qick service.
Family Dining - Decorative mini pendant fixtures are the way to go here to signify a feeling of home and familiarity
Themed Restaurants - Decorative and novelty fixtures with bright finishes are key in a fun-filled restaurant that is open at any time of day.
Kitchens - Keep this area well lit to prevent accidents, increase efficiency, facilitate quality control and prevent waste. Fluorescent light fixtures are recommended because of their ability to cast bright light while keeping a cool temperate. LED directional spot lighting is the best option, which though costing more up front, saves money and loads of energy which will transfer to your electric bill.
Exterior Lighting – Since the lights create the first impression your customers have of your restaurant, make sure they are attracted by adding sign lights, architectural highlights, entryway lighting and sufficient parking lot lighting for visibility and security. Commercial lighting should illuminate steps, walkways, direct customers away from hazards, and relay a sense of security.
Thanks for reading this week's blog. We hope you've found some helpful tips for creating your perfect restaurant lighting scheme. Don't forget to check out our Pinterest board for Creative Restaurant Lighting for hundreds of amazing photos for lighting design inspiration! Contact us with questions or comments at 1877 385 2104 or email info@louielighting.com